Twelve Days of Christmas Virtual Challenge
#dottychallenges
Virtual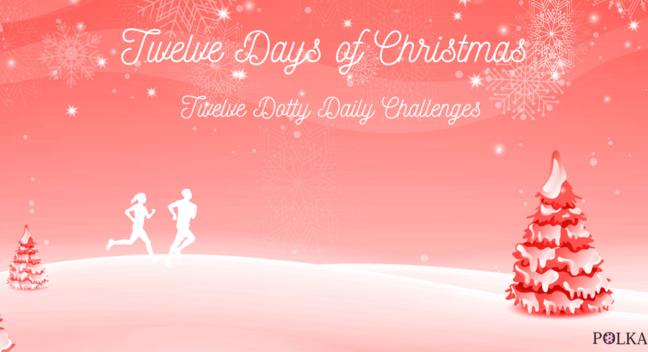 24 Dec 2020
Anywhere
From: 13 Dec 2020
To: 24 Dec 2020
Distance:
Entry Fee: £12.00
---
Twelve days of Christmas Virtual Challenge - Twelve Dotty Daily Challenges
We are super excited to announce a new Christmas virtual challenge that we are running: Twelve Days of Christmas Challenge! We know it can be hard to stay motivated at this time of year, the cold dark weather, The Christmas goodies temptations – so to help you we have launched our Twelve Days of Christmas virtual Challenge. A great start to work off those Christmas puddings! We are challenging you to stay active and have a bit of festive fun for twelve days, the active challenges can be run, walked, skipped, or jogged, its your own choice and is not a race. The challenge will start Sunday 13th December and finish…yep you've guessed it after 12 days on Christmas Eve. How the challenge works: • You won't know the daily challenges in advance, they will be issued to you via the Facebook Group/Event at 7am every day – who doesn't love the element of a surprise. • You will have 24 hours to complete the challenge • Each day post in the group/event a comment, video, evidence of you completing the challenge, we really encourage this to motivate and create a nice community of banter and fun. • The Challenges will be a mix of running activities, exercises and festive fun • At the end of the twelve days a medal and goodies will be sent to you. • Please use the hashtags #Polkadotraces #dottychallenges on any social media you have Remember this is a virtual challenge, the challenges can be completed anywhere, inside or outside, the dottier the better! Most importantly have lots of fun and share with us all your 12 days of dotty fun.
Results
See Results
Results for the Twelve Days of Christmas Virtual Challenge were last updated on Tuesday, 29 December 2020 15:25.
Organiser
146 Stamford Road
Kettering
Northants
NN16 9UB
Course
Distance:

Type:

Virtual

Profile:

Laps:
Entry limit:

100

Remaining places:

56

Not suitable for wheelchairs
Facilities
No water stations
No distance markers
No toilets
No changing facilities
No showers
No baggage store