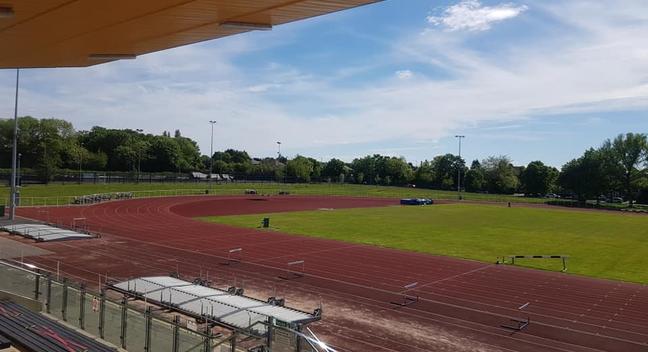 10 Jul 2021
Middlesbrough, North Yorkshire
Starts: 16:00
Distance: Graded 1 mile and 5K
---
An evening of mile and 5K racing at Middlesbrough Sports Village!
An evening of athletics in Teesside with graded 1 mile and 5K races on the track. Results on Power of 10. A timetable of events: Mile races Graded Mile Race A – 4:30pm, Graded Mile Race B – 4:40pm. Graded Mile Race C – 4:50pm, Graded Mile Race D – 5:00pm. 5K races Graded 5K Race A – 5:15pm, Graded 5K Race B – 5:45pm. Graded 5K Race C – 6:15pm, Graded 5K Race D – 6:45pm. Location: Middlesbrough Sports Village Track, Alan Peacock Way, Middlesbrough TS4 3AE. Parking: available at Middlesbrough Sports Village with additional overflow car parks on site. Participant information: Numbers/registration: participants must collect their race number and register to race by no later than 30 minutes before their race start time. Race HQ will be setup near the entrance to the track, next to the main stand. Pre-race: 1. Participants must not warm up on the racing track. Warm up areas are accessible via paths around the car park area and within Stewart Park opposite the sports village. 2. Participants will be called up 10 minutes before their race is due to start by a track assistant. Please be mindful of other races taking place before your race start time. Race format: 1. Races will be graded by ability based on your predicted time for the event. 2. All of the graded mile races will take place first followed by the graded 5k races. 3. Graded races will have no set order i.e., not fastest to slowest, etc. We will mix up the order of ability racing. 4. Once one graded race finishes the next graded race will start at the earliest opportunity providing a stream of non-stop action. Post-race: 1. Once you have finished your race please step onto the infield of the track where you will be met by a track assistant. 2. Water will be available at the finish area. 3. All race winners will be presented with an award. If you have any queries on the event please contact northeastprojectrun@gmail.com.
Results
See Results
Results for the NEP Festival of Athletics were last updated on Wednesday, 14 July 2021 20:23.
Course
Distance:

Graded 1 mile and 5K

Type:

Track

Profile:

Flat

Laps:
Entry limit:

120

Remaining places:

10

Race licence:

Race licence pending

Not suitable for wheelchairs
Facilities
Water stations
Distance markers
Toilets
Changing facilities
Showers
Baggage store
Race HQ:

Middlesbrough Sports Village, Alan Peacock Way, Middlesbrough TS4 3AE
Access to toilets, changing rooms, and the indoor athletics track for warm-up/cool down.
Spectator information: 1. Spectators are allowed within the track environment including the main stand where they must adhere to social gathering limits of 30 people. 2. Please consider wearing a face covering. 3. Be self-sufficient – bring your own hand sanitizer and face covering. 4. Avoid the most congested areas of the track including the start, finish and Race HQ.